Code of Conduct

Tsuneishi Group's forward-looking, bold actions and open-mindedness support both our customers and the local community,while fulfilling the dreams of our employees.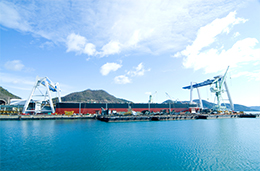 Stability and Growth
We promise to provide our customers with products and services that give them satisfaction, to build closer relationship, and to challenge ourselves to be the best with what we do.
Importance of a person of ability
We, staff members consider ourselves as a part of a large family who promise to work, study and grow together.
A member of the society
We promise to contribute our humble efforts to the revitalization and prosperity of local economies, behaving in good faith as a member of a global society.
The Tsuneishi Spirit
1 Have Vision!
Create a personal vision for the future that is in harmony with the company's vision so that we can move forward together.
2 Aim for the Top!
Don't settle for second best on either products or services you provide. Aim in improving oneself to become the greatest of the best.
3 Stand United!
Work together with a group-wide perspective, cooperating with other departments and group companies to ensure that the entire group works as one.
4 Be Proactive!
Maintain a forward-thinking stance, and move ahead with a positive attitude.
5 Be Considerate and Kind!
Be considerate of others, and always be aware of those around you.